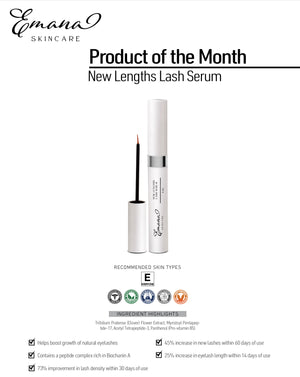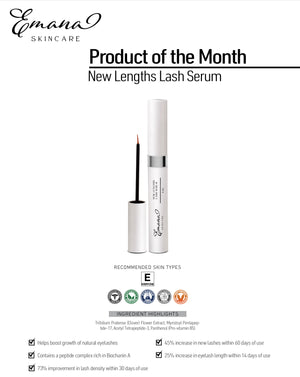 On Sale
New Lengths Lash Serum
New Lengths Lash Serum

DESCRIPTION:

New Lengths Lash Serum features an innovative peptide complex,  rich  in  Biochanin  A,  to  promote  thicker,  fuller  and  more  luscious  lashes  with  visible  results  within  2  weeks  of  regular  use.  Clinical  results  prove  its  ability  to  significantly  promote  eyelash  growth and combat against the loss of eyelashes. Within 8 weeks of regular use, patients reported a 45% increase in new lash growth!


BENEFITS:

Helps boost growth of natural eyelashes.
Contains a peptide complex rich in Biochanin A..
73% improvement in lash density within 30 days of use.
45% increase in new lashes within 60 days of use.
25% increase in eyelash length within 14 days of use
DIRECTION FOR USE:

Apply  a  small  amount  to  the  base  of  clean,  dry  lashes  twice  daily. May also apply to the brows twice per day. Do not apply directly  in  the  eye.  If  this  should  occur,  rinse  thoroughly  with  water.  Continued  use  is  recommended  to  maintain  desired  results.
Ingredients:
Water/Aqua/Eau, Butylene Glycol, Glycerin, Trifolium Pratense (Clover) Flower Extract, Myristoyl Pentapeptide-17, Acetyl Tetra-peptide-3, Ethylhexylglycerin, Panthenol (Pro-vitamin B5), Hydroxyethylcellulose, Disodium EDTA, Dextran, Sodium Citrate, Sodium Hydroxide, Citric Acid, Phenoxyethanol